Corpora Delecti (Green) (Print: A3/297x420mm on SRA3 320x450mm)

Orders placed through Paypal. Items subject to availability. Dispatch times approximate.
By use of this shop you agree this site may set cookies on your browser. More info.
Content © copyright pushingnormal and commissioning parties where appropriate. Sign up to the newsletter
Welcome to the pushingnormal shop
Looking for Xmas Cards?
Find details on my Facebook page or get in touch here.
Please note: My prints are produced in very small runs and may be available in other sizes or even framed, which for practical reasons are not included online. I also produced high quality prints of commissioned portraits and artwork.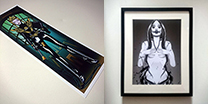 In short: If you don't see what you're after feel free to get in touch here or via one of my links...
facebook.com/pushingnormal
instagram.com/pushingnormal
twitter.com/pushingnormal
Other Options